Warmly congratulate Yunku Intelligence on passing the ISO quality management system certification
---
Recently, our company successfully passed the ISO management system certification audit again, and the certificate covers the research and development, production and service of electric vehicle charging stations, electric vehicle charging piles, charging cabinets, power change cabinets, and intelligent controllers (except for special national requirements).
ISO certification refers to the certification of whether the organization meets the ISO (International Organization for Standardization) standards, is a globally accepted and recognized way to prove the quality and standards of the organization's operation, and is one of the important certificates for the exchange of products and services in the international market. ISO certification can not only help enterprises improve product quality, service quality, management efficiency, but also improve corporate reputation, reduce corporate risk, improve corporate market competitiveness.
In the next work, we will continue to increase the intensity of fine management, deepen the implementation and promotion of ISO certification, strengthen the systematic and scientific management, and constantly improve the core competitiveness.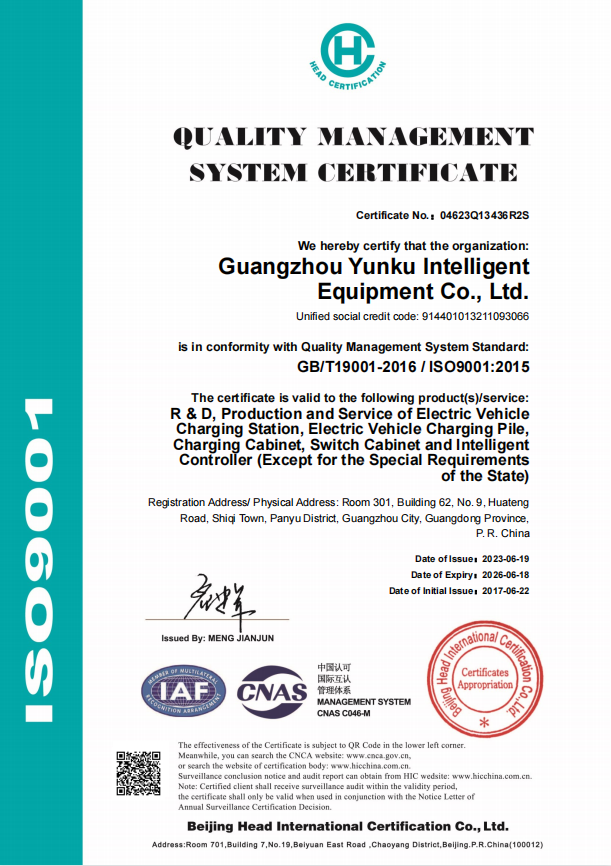 Related news
undefined
Address: Building C20, Huachuang Industrial Park, Shiji Town, Panyu District, Guangzhou City, Guangdong Province


---